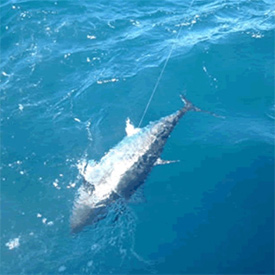 Tuna fishing charters with Lady Grace VI run from June to November. Because the tuna are found 30-70 miles from the Montauk coast, this fishing trip is a full day in ocean waters off Long Island. With the tuna fish found spread over larger areas in Long Island fishing waters, the "trolling" method of fishing is used to bring many tuna together during a Montauk charter trip with Lady Grace VI.

When trolling for tuna, a boat usually travels 4.5 to 7.5 knots. Slower speeds are good for heavy lures that run deeper in the water. Faster speeds are used to cover more area to find tuna. Water conditions in Long Island tuna fishing charter waters will also determine speed. If the sea is rough, the slower you will have to troll to keep your lures moving smoothly.
A tuna fishing charter experience is an amazing sport fishing experience. When a bluefin tuna hits your line – Hold On!. The bluefin tuna is one of the fastest, strongest and most resilient of all salt water species. These magnificent fish are capable of swimming 50 mph. Hooking a tuna is somthing you will never forget.
Water Temperature for Tuna

When the waters off of Montauk hit 60 degrees the Tuna fishing comes to life. But water temperature alone is not the only element necessary to land this big fish. Captain Mario of the Lady Grace VI Charter has been fishing Tuna for decades and knows that reading a thermometer is the easy part. Reading the water itself takes a bit more expertise.  Believe it or not, the color and the clarity of the water plays a critical part of where the Tuna will strike most.  The bottom line is Captain Mario will bring you to the water conditions that will give you the best opportunity to land your prized tuna.
---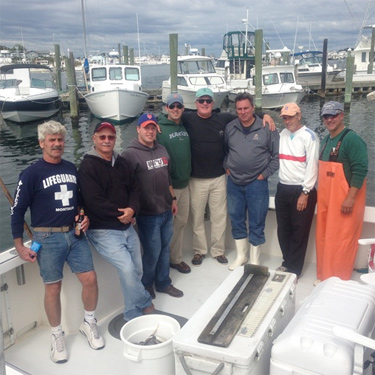 Captain Mario,

I just wanted to send you this quick note as a thank you for an amazing fishing experience for me an my buddies.   Every two years we get together and do a Vegas or Atlantic City trip and it's always a great time. However, when I mentioned to them the idea of renting a charter out in Montauk to do some tuna fishing it was met with some mixed emotion. A few of the guys would prefer a nice air conditioned casino over the idea of doing an outdoor event. Well… after our charter experience this past year, everyone, especially the indoor types, are begging for us to make this an annual event. We had the most amazing time. We couldn't have done it without your expertise and guidance.  I knew hanging out together on a boat would be a good time but actually catching fish, TUNA FISH!  Just WOW!  We can't wait till next year and the year after.      Bobby V.  – Freeport, NY
Fun Fact
Did you know that the largest Tuna (Bluefin) caught in New York State was caught in Montauk in 1977. The fish weighed in at a whopping 1071 pounds and 38 years later it still is the New York State record.
---
Maybe you are interested in something other than a Tuna Fishing charter …Click to read about  Montauk Striped Bass Fishing on the Lady Grace Private Charter Boat