Ocean wreck fishing runs from May to December for Lady Grace VI charters in Montauk. The ocean waters are filled with sunken ships and boats that attract all kinds of species to locate in the waters off Long Island. Some of the most consistent angling can be found at ocean wrecks.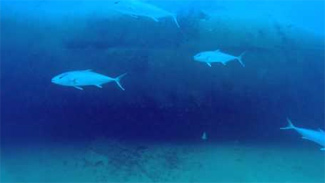 Catching the Unknown:  There are so many varieties of fish that will congregate around ocean wrecks that exactly what you will catch is often unkown until the fish is brought to the surface. This element of surprise makes ocean wreck finishing a fun and exciting experience. Spending the day on the Lady Grace Charter in the beautiful Montauk waters is exciting enough. Throw in a little ocean wreck fishing and you will make many great memories with friends and family. Call Captain Mario for more information.It's easy to see why this type of fishing is so popular. These wrecks attract many fun and tasty fish to a concentrated location, we bring you right to that spot. That is a recipe for a great day on the ocean.

Interested in another Montauk Charter Fishing experience?  Try our Montauk Striped Bass Fishing Charter.

Don't Forget to try our Striped Bass Fishing Charter