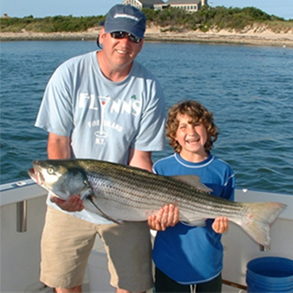 Striped Bass fishing has become synonomous with Montauk. These are prized fish and the waters off of Montauk serve them up in plentiful bunches. Lady Grace Charters is very excited to be offering these Striped Bass fishing trips. Each season, large schools of Striped Bass arrive in the waters off of Long Island and especially Montauk to feed on mackerel, herring, sand eels and squid. Often these bait fish are found very close to shore and these hungry game fish are hot on their heels. In most cases you can see and feel the excitement as the Striped Bass pursue these bait fish, often churning the water in exciting surface attacks and amazing aerial acrobatics.
If you are looking for an experienced boat captain schooled in Striped Bass fishing tactics, then Lady Grace Private Charters is your best choice. Our fishing tactics include live baiting, casting popping plugs, soft plastics and metal jigs with spinning rods, as well as specialized "Butterfly" jigging techniques born on the west coast. We supply all the tackle necessary to subdue these powerful game fish. Come join us for the chance to land the ultimate striped bass. These exciting trips are in high demand, so please call for available charter boat dates.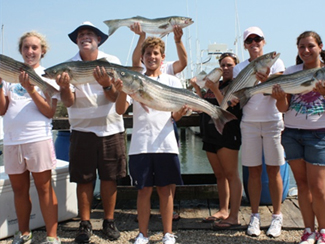 Dear Captain Mario

We were looking to do a few things on our vacation as a family when my son cam up with the idea of renting your Montauk Charter and to do some fishing.  Except for a lake we fished at in unpstate New York (and caught nothing) we were complete novices.  I liked the idea but we did have to convince the women. Next year that won't be a problem. Everyone, including the girls loved the entire experience. You were right, the striped bass were out there and plentiful. We loved every minute of it.  Wishing you the best and continued success.  We are planning next years striped bass fishing trip already.  And, as promised, I will be recommending you to my friends and extended family who also spend time in Montauk and also never thought that renting a private charter boat could be so rewarding and fun for everyone.    Thanks Again!  Martin & Christina G.  and Family
---
Migration Patterns and Striped Bass Fishing

Spring Striped Bass migrate from the warm Atlantic waters off of North Carolina and migrate to Long Island waters and points north.  In the fall, when water temperatures in Montauk begin to drop, striped bass will follow this same migration route back to the warmer temperatures down our eastern sea coast. It is during these migration periods where the fish are feeding and Montauk sport fishing for striped bass is most exciting. 
---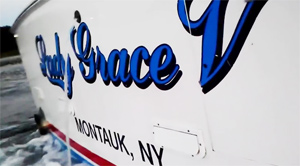 Water Temperature and Striped Bass Fishing
Captain Mario of the Lady Grace Charter has been catching striped bass in the waters off of Montauk for over 40 years. Over that time , he has learned that one of the most important things to a running an exciting striped bass charter boat is to fish the right water temperatures.  Temperature dictates almost all behaviors in these fish. On our coast spawning begins approximately begins around April when the water temperature reaches about 58 degrees, and lasts through mid-June.  But – knowing when these fish feed is the most crucial element to being able to catch tem. When the water is cold, 50 degrees or less there really isn't much feeding going on. At these temperatures top water fishing for striped bass will yield virtually no results. The best chance at these temperatures is to bottom fish. However, the best strategy would be to wait until the water temperatureis between 55 and 65 degrees. For more information call 516-768-6849 or contact us through our website.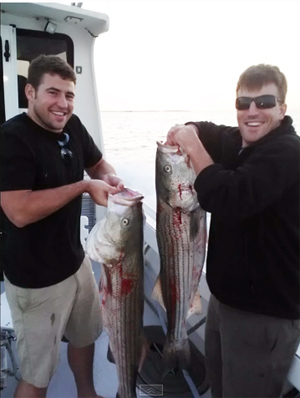 The Taste of Fresh Striped Bass

You don't have to be a charter boat or sport fishing expert to know just how delicous a striped bass tastes.  This shish has a long history of being a royal delicacy.  In 1957 Prince Philip and her Majesty Queen Elizabeth dined at the Waldorf Astoria. The french chef, Claude Philippe, prepared over  4,500 pounds of striped bass for this royal feast. The striped bass was served with a champagne sauce surrounded by golden fleurons.   Just 24 hours earlier the fish was caught in the beautiful ocean waters of Montauk, Long Island.
Her Majesty pronounced the fish a culinary masterpiece.

Interested in another Montauk Charter Fishing experience? 
Try our Montauk Shark Fishing Charter or our Montauk Tuna Charter.
Fun Fact
Did you know that the largest Striped Bass caught in New York State was caught in Montauk in 1981. The fish weighed in at a whopping 76 pounds and 34 years later it still is the New York State record.