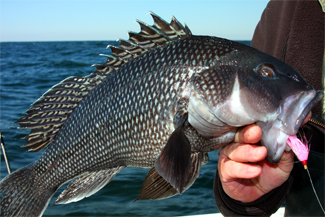 Recreational sport fishing of sea bass in Montauk is a great choice for easy angling. Because sea bass are usually found with porgies, a charter on the Lady Grace VI will allow for an easy catch of both species, which are plentiful during summer months around Montauk and in the Long Island Sound. During sporting fishing charters, they are usually found at pilings, wrecks and rock jetties as well as at rocky bottoms in shallow water on the east end of Long Island. The largest sea bass in New York State was found just off Montauk and weighed over 9lbs.

Sea Bass are excellent table fare. They are available all year but with the help of your Lady Grace fishing charter captin they are much easier to find.  The are also easy to catch and very often plentiful off the shores of Montauk. The black sea bass may not fight like a tuna or jump like a Marlin but if a fun & relaxing day on a beautiful Montauk fishing charter is what you are looking for then a sea bass trip is exactly what you need.  
Call Captain Mario to arrange for Montauk Fishing Charter. Whether it's Sea Bass or Striped Bass, Fluke or more, the Lady Grace will take you to the fish.