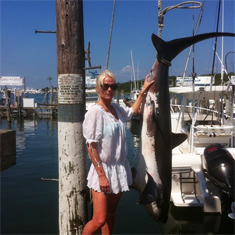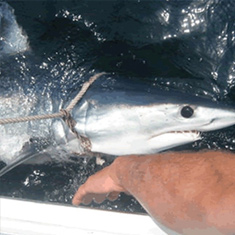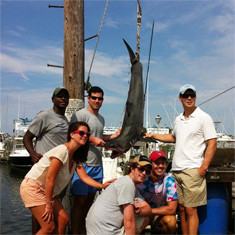 Shark fishing with a Lady Grace VI charter runs June to November. Montauk happens to be a popular hotspot for sport fishing of sharks. Types of shark found off the eastern Long Island waters include mako, blue and thresher. Recreational shark fishing via charter boat is done at least 10 miles from the shore of Montauk, Long Island. The sharks are easily attacted to blood or a chum slick. The chum will spread over a wide area and the sharks will pick up the scent and will be drawn to that area. Unlike most other fish, you will normally have the opportunity of seeing your shark before it takes your bait. That measure of excitement and anticipation just doesn't exist with other types of fishing. And … when it finally takes your bait the thrill begins. The excitement of catching a shark can be second to none when it comes to Montauk Sport fishing; and the Lady Grace shark fishing charter is the boat of choice for many experienced and first time anglers.

When creating the chum slick you never really know what will be attracted to the area. There have been times when the unexpected tuna can even hit your line. Whether a tuna or a large Mako you can rest assured that the Lady Grace crew is experienced in all types of fishing and is there to assist in making your trip memorable and amazing.

Shark fishing is extremely popular in Montauk and both Mako and Thresher shark make excellent table fare. But standing on the dock and taking a picture next to your catch is a highlight you will always remember.

Call Lady Grace Charters today to book your shark fishing trip of a lifetime.  You'll probably come back and do it again the next year.
Shark Fishing Testimonials

I have been on a few charters in different locations other than Montauk. I have to praise Captain Mario as the best. He has always provided our group with an amazing experience.  The effort that he and his crew put forth is second to none. They take great pride in their vessel and it is reassuring to feel how badly they want us to have a succesful trip. It's always a good time for us, but not for Captain Mario – until he starts filling the boat with our catch.  Captain Mario not only takes you fishing but you come away with an education and new knowledge about how to catch fish and the habits of the fish.  I highly recommend the Lady Grace Charter Boat and Captain Mario.
Carlos F. – Flushing, NY