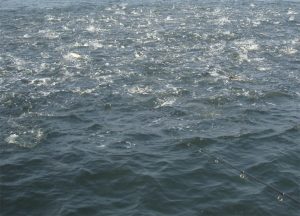 Montauk Bluefishing is a specialty of Lady Grace Charters.  Bluefish are a plentiful species off the shores of Montauk, Long Island and they provide the best of what sport fishing has to offer. They are known for their hard fights and Montauk bluefish are often some of the largest of the species. They are often the most fun fish to catch and their aggressive feeding habits causes them to chase surface lures with a ferocity that few other fish can claim. In the waters off of Montauk, it is not unusual to see several Bluefish at a time to launch far into the air in pursuit of a surface lure.
Bluefish as a delicacy: While Bluefish do not have the reputation of being the best tasting fish, a fresh caught Bluefish is very tasty and sought after by many fish lovers. 
Interested in another Montauk Charter Fishing experience?  Try our Montauk Ocean Wreck Fishing Charter.